Launching Examplify
Click 'Examplify' icon. *NOTE: If Examsoft prompts you to update, then select update button to get the latest update to Examplify.

Click on the exam you wish to take on the left hand side. Select Exam Name. Make sure your Blind Grading ID is entered correctly. Enter Exam Password provided by the proctor directly above the 'Start Exam' button.
Once entered, click 'Start Exam'.

 If you are taking a secure exam, you will be presented with the below screen. Read the notice and click Continue to confirm that you wish to open the exam.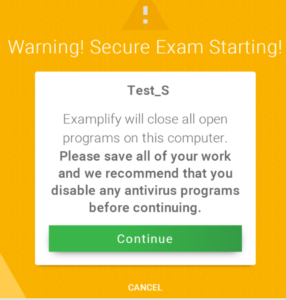 Read each Notice Window carefully and click 'blue forward arrow' on the top right side of the screen, to advance to each window. Click "Next" when you have finished reading all Notice Windows.


When your proctor instructs you, enter the code exactly as it is displayed on your screen to confirm that you wish to enter the exam and click 'Start Exam'.
Please ensure you are ready to begin the exam at this point. The exam will open in Examplify.